Release Notes for December: Profile feeds
December is upon us and we can already smell the holiday cheer. At PLOW, we're focussing internally right now, on the things that we can…
December is upon us and we can already smell the holiday cheer. At PLOW, we're focussing internally right now, on the things that we can control. Our product and community, for instance. And we've been cranking for you.
It's time for a quick recap of recent changes to the product.
Profile Feeds
We've just released a major new feature: Profile Feeds. Now, when you are active in PLOW with public endorsements and comments, the items you endorse and your commentary will populate a personal feed available on your profile page. When people come across you on PLOW, they will now be able to see the content that you recommend and your personal voice, if you have chosen to speak up. You can also discover content and take action with that content directly from the profile feeds of other people. We want profile feeds to become a new kind of personal reflection on the internet that you feel ownership over. That you would happily link to as a personal URL. And we want them to be built on top of simple actions that you take in the app that give you leverage and amplification.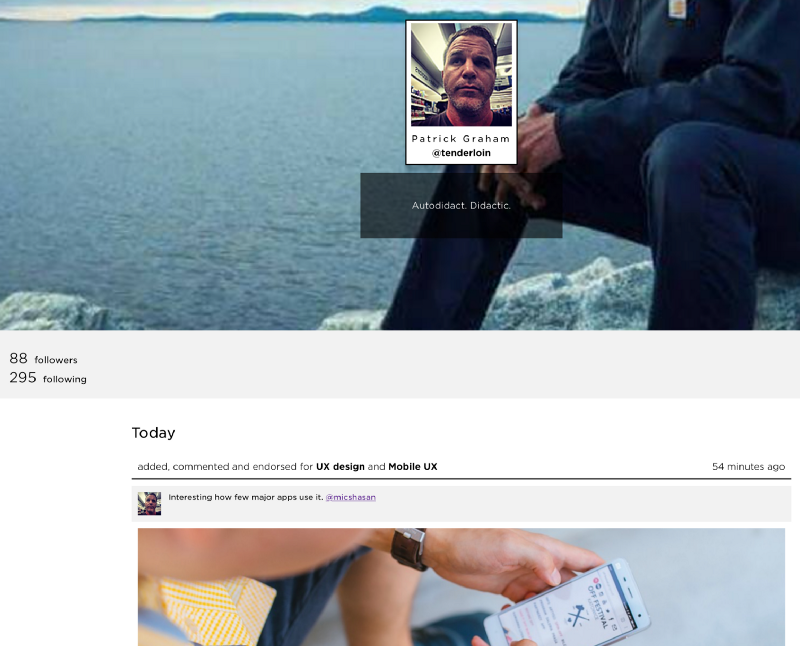 The first version of profile feeds is pretty simple and does not provide for the granular control that we would like to build towards over time. In the meantime, please let us know if we're on the right track!
Vue 2.0
We wrapped up October with our first major re-write of the front end (project Earhart). In November, we upgraded to Vue 2.0, which involved a number of additional architectural changes. If you are a JS engineer and have questions about how we went about it or what our experience has been (hint: LOVE it), drop us a line and we can chat about it. If you are NOT a JS engineer, this change will be largely invisible to you, except that you should notice the application being even faster and more responsive.
Other
Major UI improvements for the content sharing process
New layout of core item controls (save/delete/share), including a new share icon
Restored pre-Earhart share link presentation, which highlights you and your commentary when you share an item on social networks
Digests now mailed from 'digest@plow.io' so that you can custom filter as you please
Wrapped analytics (GA, Heap) around Earhart core actions
New tour of core functions available from the burger menu
Stamped out dozens of little UI nits
On Deck
Significant revamp for the digest, including logic and styling
Revamped image handling system, including more reliable user upload process and libraries of default avatar and header images
Better use of space for anchor splash pages (the viewport you see when you click into an anchor feed)
Better handling of the end of feed viewport
Major expansion of anchor coverage
We're replacing our current machine learning systems for content categorization with a completely new engine and training process. Expect big improvements here (more positive hits, fewer false positives) rolling out across anchors in January.
Thank you for your continued interest and feedback. If you haven't already, please join us on Slack! And if I don't speak to you beforehand — Happy Holidays!!
All the best,
Founder/CEO
---
If you liked this post, we'd greatly appreciate if you'd click the heart below and leave us some feedback here or on Twitter. We have lots of more to say on how content filtering and social needs to change but very much want to hear from the community.
---
PLOW is an independent social platform and collection of communities where people find and share the best content without the noise of big social media, and get the information that matters with less effort.
Background on what we're building: